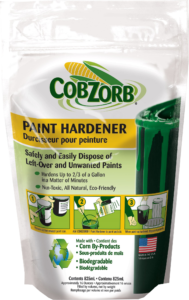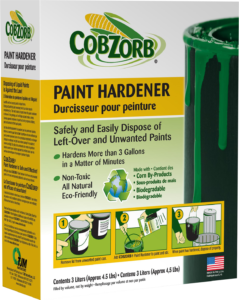 Solidifies Up to 3 Gallons in a Matter of Minutes
For Use on All Latex and Acrylic Paints (water based only)
Non-Toxic, All Natural, Eco-Friendly
CAUTION: Do not use for absorbing strong acids, caustics and strong oxidizing agents. Store in a cool, dry area. CobZorb Hardener must be disposed of in accordance with all federal, state and local regulations.
Directions

FAQs
1. Why use CobZorb Paint Hardener to dispose of discarded paint?
Most cities have laws regarding proper disposal of paint. CobZorb allows you to safely, legally, and easily dispose of unwanted and left-over latex and water-based paints.
2. How does CobZorb Paint Hardener work?
Simply pour CobZorb into a can containing latex or water-based paints. Stir with a wooden stick until paint is solidified. Then reseal the can and dispose of properly.
3. Is CobZorb safe for use in my home?
Yes. CobZorb Paint Hardener is non-toxic and Eco-Friendly. It is made of All Natural corn by-products and is non-combustible.
4. How much paint can CobZorb solidify?
CobZorb Paint Hardener can solidify several gallons in a matter of minutes.
5. What are the consequences of disposing wet paint in the garbage?
In addition to tremendous environmental damage from paint, there are laws preventing improper paint disposal. Please check local and state regulations. Oil-based paints usually require disposal through a recycling center. Latex and water-based paints can be disposed of once hardened with CobZorb.
Read and become familiar with the Material Safety Data Sheet for CobZorb Paint Hardener.
For a copy Click Here.
To order, please visit our store page